MA Prose & Drama Showcase 2021: Part 1
Season 5, Episode 1,
Jul 24, 2021, 12:00 PM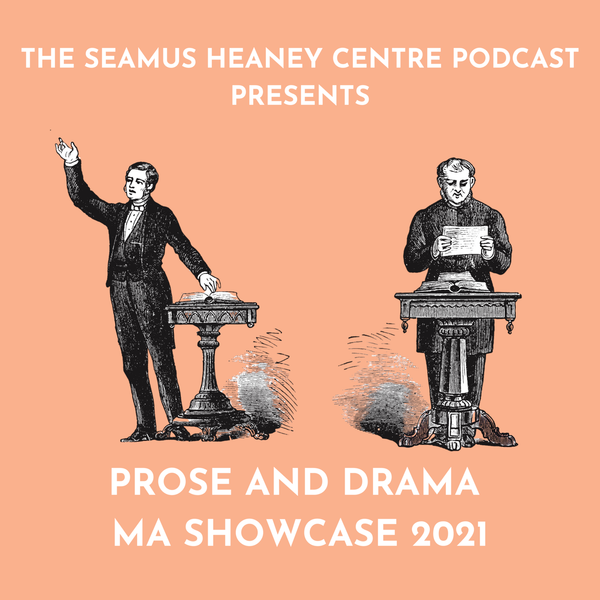 In the first of our two special showcase episode, we hear short excerpts of new work by a few of our students on the Masters in Creative Writing programme. Please note there is some strong language from the outset. 

With excerpts from: 


Wedding Exes by Ross McDonald, 
Phoebe - Abigail McGibbon
Mason - Thomas Finnegan
Big Fish, Little Fish by Megan McGarrity, as read by Anna Healy Dow.
Virgins in Purple (VIPs) by Elaine Columb
Stage Directions - Jo Dow
Sadie - Abigail McGibbon
Oonagh - Anna Healy Dow
Barra/Lad - Thomas McGibbon
An Untitled Extract from Carey Brown, as read by Anna Healy Dow.
The Inaudible Treading of Ducks by Andrew Comiskey, as read by Jo Dow.

The Seamus Heaney Centre Podcast is created in a small back room by Stephen Sexton and Rachel Brown. This episode was produced and edited by Dara McWade, Craig Jackson and Conor McCafferty. It was recorded at the Sonic Arts Research Centre at Queens. The actors throughout were Jow Dow, Abigail McGibbon, Thomas Finnegan and Anna Healy Dow, with direction by Dara McWade. Thanks, as always, to our writers, and to Nick Boyle for his music. Special thanks to Creative Writing lecturer Michael West.