ASSk Us Anything Part 2
Season 8, Episode 2,
Aug 25, 2021, 09:00 AM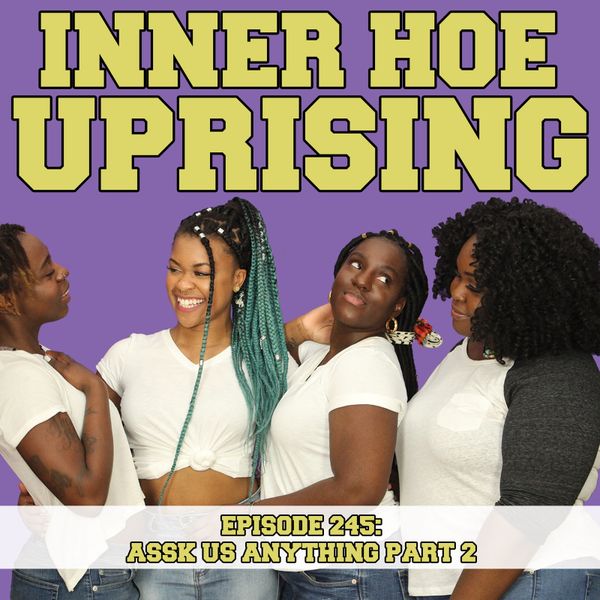 We answer some of your burning questions about the Inner Hoe Uprising podcast like: Do we date listeners, how do we balance the show with our personal lives, is hot human summer ending? Plus Akua got her back blown out for the first time in years and Rodecka is heading into surgery.
HASHTAGS
Use #InnerHoeUprising and #Podin to keep up with this conversation on social media and let others know that you are listening. 
SPONSOR(S)
You can use code IHU for 15% off of some very pleasurable Dame products site wide. 
WRITE IN EMAIL
CALL IN VOICE MAIL
(404) 491-9158
SPEAKING GIGS
Wanna pay us to VIRTUALLY speak at your school or conference about sex positivity, black feminism, or the other kinds of topics we discuss on this show?  We'd love to! To book us, send us a line to ihupodcast@gmail.com 
MUSIC
SOCIAL MEDIA
Inner Hoe Uprising| IG: @InnerHoeUprising | Twitter: @InnerHoeUprisin
 Akua | IG, CH & Twitter: @heyyakuagirl 
Rebecca| IG @thedarkestimeline & @fatblacksnack | Twitter: @existncrysis |CH: @RebbyorNot
Sam | IG, CH, & Twitter: @slamridd  
 #black #woman #sex #feminist #womanist #Comedy #raunchy #queer #pride #quiltbang #sexuality #lgbtq #lgbt #funny #agender #transgender #nonmonagamy #feminism #intersectionalfeminism #kink #porn #BDSM #dating #love #relationships #blackwomen #blackpeople #podcast #sexualwellness #sexualhealth