Discussing: Staging N-Town (Mary and Passion Plays)
Episode 184,
Aug 30, 2021, 02:09 PM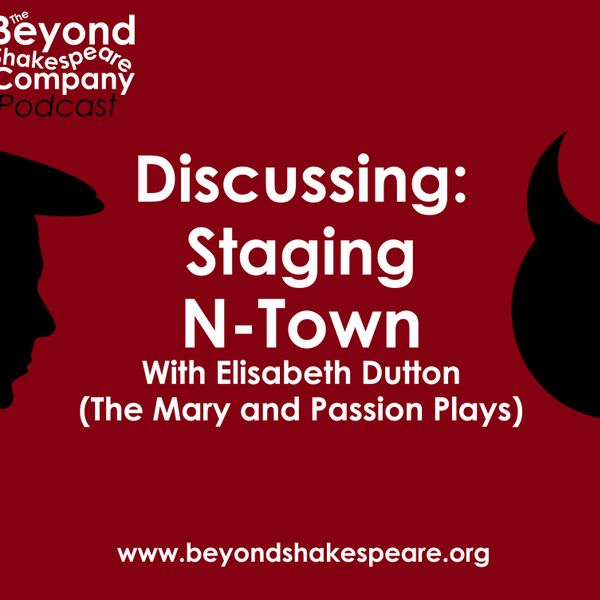 A discussion covering production of the Mary and Passion plays from N-Town.
Following our spurt of N-Town releases, here's a discussion about staging some of the plays within the N-Town manuscript with special guest Elisabeth Dutton, Professor of Medieval English at the University of Fribourg.
In 2009 and 2010, Elisabeth Dutton produced the Mary play and the two Passion plays from N-Town in Oxford - this discussion covers the nature of those plays, the practical questions of staging them and the issues involved. We've covered all these plays as read throughs on the podcast, and hope to return to them next year. We shall see.
The host was Robert Crighton.
The Beyond Shakespeare Podcast is supported by its patrons – become a patron and you get to choose the plays we work on next. Go to
www.patreon.com/beyondshakespeare
- or if you'd like to buy us a coffee at ko-fi
https://ko-fi.com/beyondshakespeare
- or if you want to give us some feedback, email us at admin@beyondshakespeare.org, follow us on Twitter, Facebook & Instagram @BeyondShakes or go to our website:
https://beyondshakespeare.org
You can also subscribe to our YouTube channel where (most of) our exploring sessions live -
https://www.youtube.com/channel/UCLa4pXxGZFwTX4QSaB5XNdQ
The Beyond Shakespeare Podcast is hosted and produced by Robert Crighton.