S1, Ep 3 - Endometriosis and Me
Season 1, Episode 3,
Nov 08, 2021, 12:00 AM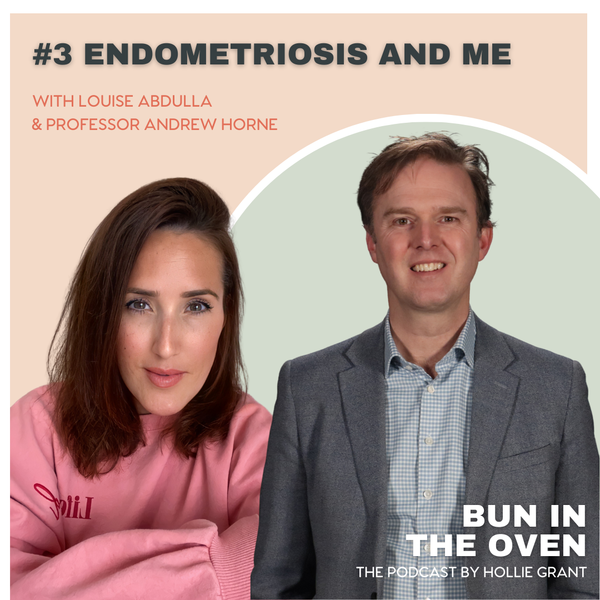 In this week's episode I'm talking to Professor of Gynaecology Andrew Horne, and one of my favourite people Louise Abdalla all about Endometriosis, its symptoms, and its effect on fertility. Please note that we do also discuss miscarriage in this episode.

In this episode we talk about the symptoms and signs of Endometriosis and the effects it can have on a woman's everyday life, and their desire to have children. Andrew shares the clinical elements of the condition so perfectly and shares his advice for those suffering whilst Louise gives us an insight into living with the condition. Louise's honesty, and Andrew's knowledge, will help so many women push for a diagnosis I'm sure (as it currently takes on average 7 years to be diagnosed).

Guest Bios

Andrew Horne

Andrew Horne is Professor of Gynaecology and founder and co-director of the EXPPECT Centre for Pelvic Pain and Endometriosis at the University of Edinburgh. He is a world-leading researcher in women's health problems, with a focus on endometriosis and pelvic pain, and has published over 150 scientific papers. He is Trustee to Endometriosis UK and has co-authored a book on endometriosis for patients called "The Experts' Guide to Treat, Manage and Live Well with Your Symptoms". I still can't believe he found the time to talk to us – he is an incredible incredible man! 


Follow Professor Horne on Twitter HERE 
Buy Professor Horne's book "Endometriosis: The Experts' Guide to Treat, Manage and Live Well with Your Symptoms" HERE – sales of which will raise funds for Endometriosis UK
Louise Abdalla

Louise Abdalla is one of the funniest, loveliest and honest women I know. Married to king of positivity –
Mr PMA
, Faisal Abdalla, she is a huge support behind the scenes (although is too modest to admit how much she does to grow his brand). With a background in PR, they make a great team alongside their long-awaited son Raffi.
Useful Links:
What is Endometriosis – click HERE
Endometriosis UK: the leading UK charity dedicated to providing information and support to those with endometriosis – click HERE
A Word From Our SponsorsThe Bump Plan

This episode of Bun in the Oven is sponsored by
The Bump Plan
.
Given the theme of this podcast I imagine that some of you are currently pregnant or planning a family. So many women I know just aren't sure how to move their body safely during this changing time? Or they want to stay active but need someone to show them the way and hold their hand? That's where the Bump Plan comes in. The Bump Plan is a holistic prenatal fitness plan that allows you to work out with confidence at each trimester of your pregnancy.
Founded by myself, Hollie Grant,
The Bump Plan
has already helped over 30,000 pregnant women stay active safely, and feel empowered throughout their pregnancies. Through its trimester specific workouts in which I am always at the same stage of my pregnancy as you will be in yours, hypnobirthing subscription, and extensive Education Hub, you'll feel supported and part of a welcome community.
Let me help you move safely through your pregnancy, maintain your fitness and strength, and enter parenthood strong and prepared for all the demands it poses.
►
As a listener of Bun in the Oven I am offering you £5/month off the cost of your monthly subscription to The Bump Plan simply by entering the code '
bun
' at checkout. To get started today simply head
here
and enter the code '
bun
' at checkout
. 

Join our community today and stay strong throughout your pregnancy
► Follow The Bump Plan on Instagram
HERE
Sprout
This episode of Bun in the Oven is also sponsored by Sprout!
Sprout is the first ever discount club for pregnancy and parenthood. Born out of the reality of just how expensive having a baby can be, Sprout is here to help you save at what we know to be a truly expensive time.
Founded by Sophie, Mum to 2 - Sophie found the adjustment to statutory maternity pay a challenge and when reflecting on her time as a student when she had lots of lovely discounts, she found it crazy that as a new parent, there wasn't anything out there for those with little ones.
And so Sprout was born...since launching in 2020, Sprout has now saved its members over £28k and now partners with over 90 brands including JoJo Maman Bebe, My 1st Years, Mama Mio Skincare, Natal Active, Bloom & Wild, Latched, Bugaboo and so many more to offer members repeat discounts to help them save.
Whether you are pregnant, your partner is pregnant, you are adopting, have little sprouts or older ones, membership is open to all parents and parents to be. Either join for a year or life and you can now buy a membership for a friend to help them save too!
A lifetime membership to
Sprout
comes with a free gift box and, as a listener of this podcast, by using the code
bunintheoven
you can save 50% on a lifetime membership and sign up today for only £10. Yes, that is access for life for only £10 by using the code
bunintheoven
.
To join the club, simply head
HERE
, choose the lifetime membership and enter the code
bunintheoven
, all lowercase, all one word and You will be given instant access to the discounts so you can start saving straight away!​
Follow Sprout on Instagram
HERE