Twilight 2000 4E - It's Always Cloudy in Kalisz - EP 16 - "The Last Action Hero"
Episode 37,
Nov 16, 2021, 10:38 AM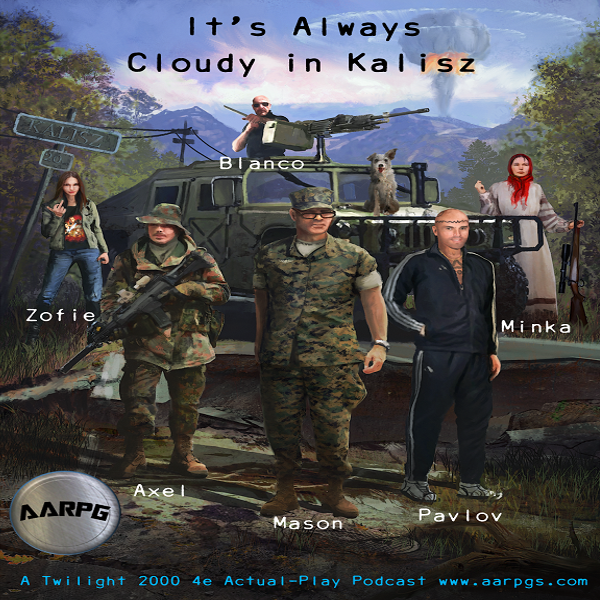 Hello, it is that time again. The Advanced Age Roleplaying Gamers Podcast will be releasing the next, and second to last, episode of their actual-play podcast - It's Always Cloudy in Kalisz, which is set in the grim apocalyptic world of Twilight 2000 4E, tomorrow, Tuesday November 16th. Episode 16 - "The Last Action Hero" finds our group of survivors still fighting for their lives at the College, beset by Soviet troops and their tank as well as an old rival at the college, as they try to escape from the battle.  And although it appears that they may have turned the tide of battle, not all of them will live to see another day in the dark and deadly world of Twilight 2000.


You can listen to our podcast on most major providers like Apple, Spotify, Google, Facebook, and many, many others.


If you like what you hear, please like, subscribe, write a review, and pass us on to your friends so we can reach more people and invite them to our table.
If you want to support us more directly you can always "Buy Me a Drink" at
https://www.buymeacoffee.com/AARPGPodcast
or by picking up some sweet merch at our websites store at
https://www.theaarpgs.com/
Heads up - your AARPG co-hosts Matt and Nathan will be at Pax Unplugged 2021 on Saturday and Sunday. We'll be walking around, taking in a discussion panel or two and maybe even playing some games. 

Thanks to everyone who has listened, we hope that you continue to enjoy listen to us geek out.