THE RETURN OF THE HOMIES FT MARIAHLYNN & CEO LEE - Big Homies House E:90
Episode 90,
Jan 30, 2022, 07:11 PM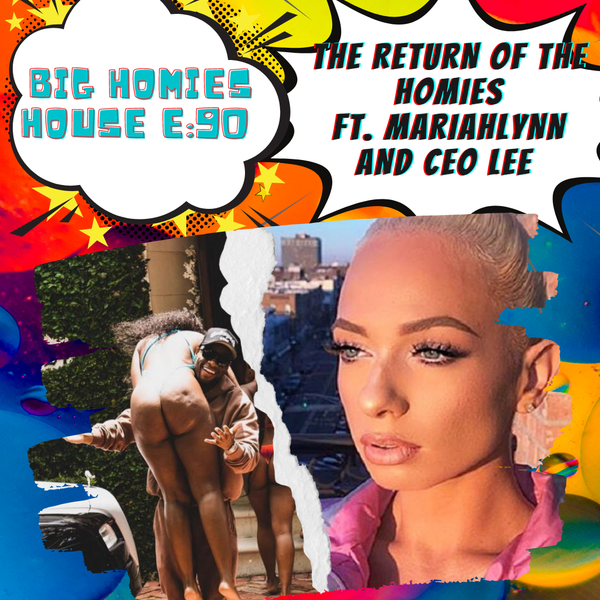 THE RETURN OF THE HOMIES FT MARIAH LYNN & CEO LEE - Big Homies House E:90
#ATLANTAPODCAST #ATLANTARADIO #LHHNY #LHHATL #MARIAHLYNN
HAPPY NEW YEAR HOMIES!!!!!! I know yall have missed us, but we had to take a lil minute to get ourselves together to bring you something NEW!! This weeks Homies are Mariah Lynn and CEO Lee ! We discuss the toxic BBL culture in the industry, first date questions,  smashing your boss, negative friends… all this and more
THE HOMIES ARE BACK AND BIGGER THAN EVER!!!
ALL PODCASTS AUDIO AVAILABLE HERE: 
For EXCLUSIVE BEHIND THE SCENES FROM THE SHOW. CLICK HERE:
This weeks Homies are 
@MARIAHLYNNBOSS
@THESYSTEM_CEOLEE
TIMESTAMPS:
4:05 - Should A 17  Be Able To Get A BBL
8:15 - Does The Music Industry Overlook Women Without Surgically Enhanced Bodies?
11:54 - Do Men Pressure Women Into Getting BBLs
14:54 - Is It Wrong To Ask A Man How Much He Makes On A First Date?
25:40 - Is It OK To Have Sex With Your Boss?
29:16 - If You Cheat First, Are They Wrong For Cheating Back ?
34:46 - Can You Deal With Someone Who's Always Negative?
41:26 - Should You Give The Game To Someone OR Make Them Learn The Hard Way
44:50 -  Is This Generations Dating Pool Trash?
47:28 - Should Women Be Shamed For Selling Cat 
1:00:11 - Facts or Cap: Should Your Friend Give You A Discount When You Shop With Them?
Big Homies House, The Big Homies House, Big Homie Kodaq, Big Homie Jojo, ATLANTA RADIO, ATLANTA, PODCAST, ATLANTA PODCAST, IHEARTRADIO, IHEARTMEDIA, MARIAHLYNNBOSS, MARIAH LYNN, LOVE AND HIP HOP, LHHATL, LHHNY, LHHMIA, Cardi B, BBL, CHAMPIONSHIP SUNDAY, NFL, SUPER BOWL, LA RAMS, KC CHIEFS, BENGALS, SF 49ERS