Ely Percy
Episode 1,
Mar 20, 2022, 01:00 PM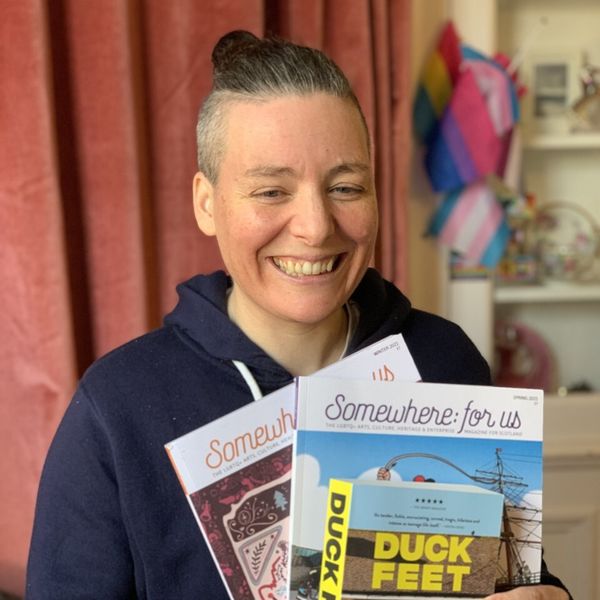 It's our launch episode and Scottish writer Ely Percy chats to Jules about their Saltire-winning Scottish Book of the Year, Duck Feet, the search for a chosen family and why it's important to write about identity on your own terms. But it all begins with why Bad Girls was a TV treat best enjoyed alone…

Ely Percy is a Scottish writer who grew up in Renfrew.  Today, a two-time Saltire award-winning novelist embarking on their third (but first tartan noir) novel, Ely with humour and optimism about growing up and coming out in Glasgow, finding the language to come out as Agender and how believing in the impact of your stories keeps the joy of writing alive.


Their debut novel Vicky Romeo Plus Joolz was published in 2019 by Knight Errant Press, whilst their latest novel Duck Feet lay patiently in the background for 16 years, until it was finally published in 2021 when it went on to win Scottish Book of the Year at Scotland's National Book Awards, the Saltires.


Ely suffered a brain injury when they were 14 leading to a diagnosis of retrograde, anterograde and post-traumatic amnesia, and in their own words, writing was, "for catharsis" through their recovery and beyond. First published nearly 30 years ago in Big! Magazine they also featured in Issue 5 of Somewhere: For Us Magazine in 2021 along with news of funding for a third novel, Kingstreet, lighting their path for 2022.


About Jules and the Somewhere: For Us Podcast…


A brand new LGBTQ+ arts, culture, heritage and enterprise podcast for Scotland and beyond, hosted by Jules Stapleton Barnes.  After flirting with a radio broadcasting career in her 20's, Jules has since been immersed in LGBTQ+ community development work in Edinburgh, since 2010.  Jules joined the Somewhere team in 2018 and is delighted to be bringing both worlds together to celebrate and champion our community through the click of a button.

 "I want our podcast to shine a light on the incredible breadth of queer life in Scotland today; more diverse and deeper than stereotypes could ever capture.  To celebrate the power of human connection, finding your community and a safe space where the dark and lightness of conversation leaves you feeling connected, supported and hopeful." - Jules, host of Somewhere: For Us Podcast
Find out all about Scotland's newest LGBTQ+ community podcast and all our guests here -
www.somewhereforus.org

About Somewhere: For Us Magazine…