BOW ft. FIVIO FOREIGN - Big Homies House E:94
Episode 94,
Apr 17, 2022, 10:23 PM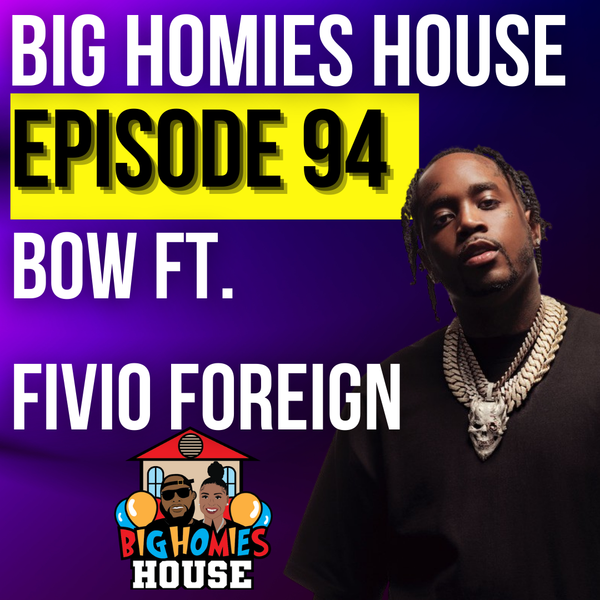 BOW ft. FIVIO FOREIGN   - Big Homies House E:94


#fivioforeign #nyrap #kanyewest #NYDrill 
It is episode 94 and we got one of the biggest artist in the world kicking it with us, all the way from the CITY OF GODS, to discuss his new album B.I.B.L.E , FIVIO FOREIGN is kicking it with the HOMIES today! 
This week we talk about keeping old nudes in a new relationship, and whether a woman needs to get a house before she gets her body done up! Also we dig into the HISTORY of DRILL MUSIC, Kanye West recording process and whether or not Atlanta has eclipsed New York in terms of RAP RELEVANCE !
ALL THIS AND MORE , BIG HOMIES HOUSE 
ALL PODCASTS AUDIO AVAILABLE HERE:
For EXCLUSIVE BEHIND THE SCENES FROM THE SHOW. CLICK HERE:
STREAM FAVIO FOREIGN'S "B.I.B.L.E" HERE
This weeks Homies are
@fivioforeign_8fs
@poni_capri
TIMESTAMPS:
3:36 - Should You Keep Old Nudes In A New Relationship?
6:47 - What Should A Woman Get First, A House Or A Body?
10:38 - Is The DRILL MUSIC Genre Getting Watered Down?
11:27 - Who Originated Drill Music?
12:24- Are First Week Sales Overrated? 
14:18 - Fivio Speaks On DONDA Recording Process !
15:24 - Fivio Says New York Is More Relevant Than Atlanta Musically!
16:40 - Is NY Drill Better Than Chicago Drill?
Big Homies House, The Big Homies House, Big Homie Kodaq, Big Homie Jojo, ATLANTA RADIO, ATLANTA, PODCAST, ATLANTA PODCAST, IHEARTRADIO, IHEARTMEDIA, NBA Playin Tournament , FIVIO FOREIGN, Kanye West, Alicia Keys , CITY OF GODS, NEW DRILL, CHICAGO DRILL, WOO WALK, THE WOO, NY RAPPERS, ATL RAPPERS,