Isabel Sachs - Creative Producer + Founder
Season 3, Episode 91,
May 17, 2022, 07:59 AM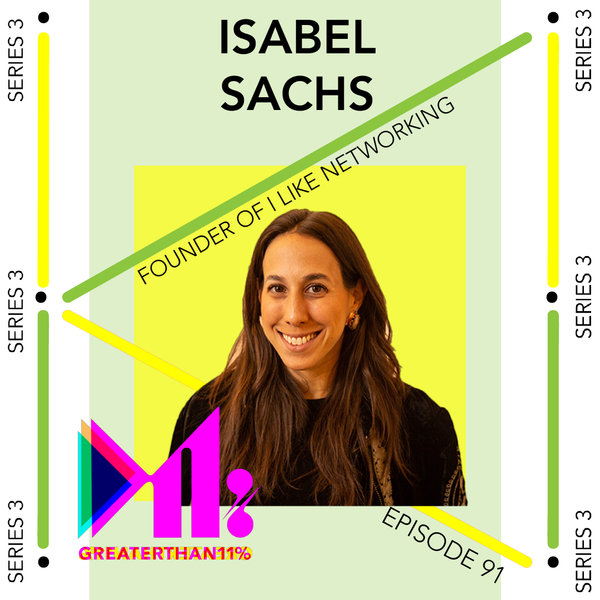 For episode 91 we are joined by Creative Producer and founder of:
 I LIKE NETWORKING
-  Isabel Sachs.
Isabel shares her journey to discovering a creative life as a result of studying International Relations degree in her native Brazil. Not enjoying the course, she found solace in getting involved - at first running on film sets for friends and slowly she got more involved in all things creative. She decided to channel her energy into founding her own company. A brilliant choice as it evolved into an award-winning cultural agency, which she grew into a huge success with it producing 50+ events a year - including tours, managing artists and a theatre company, but in 2015 she decided to sell the business and move to London.
In the UK she worked for a number of companies in her capacity as a creative producer within the arts, cultural and entertainment sectors but when the Covid pandemic hit in 2020 she was made redundant. It is from this I LIKE NETWORKING was born.
To date I LIKE NETWORKING has established:
a mentoring scheme… and there have been 150+ mentees that have received support.
There is an online community of approximately 30,000 people actively engaging with the platform
There has been a podcast series
And there have been a number of events!
Isabel shares her journey, the importance of networking - it not being cringe as portrayed in movies - and her ambitions for a more equal and diverse cultural industries.

Enjoy



-----------------------------------------------------------------------------

🛎 We need your help pushing for change: a more diverse creative industry within years, not decades. Please share the podcast with others who you think may be interested or benefit!
Be sure to follow us: