Vidyamala, OBE! - A Platinum Jubilee Honour for Breathworks (The Buddhist Centre Podcast, Episode 432)
Episode 432,
Jun 04, 2022, 08:00 AM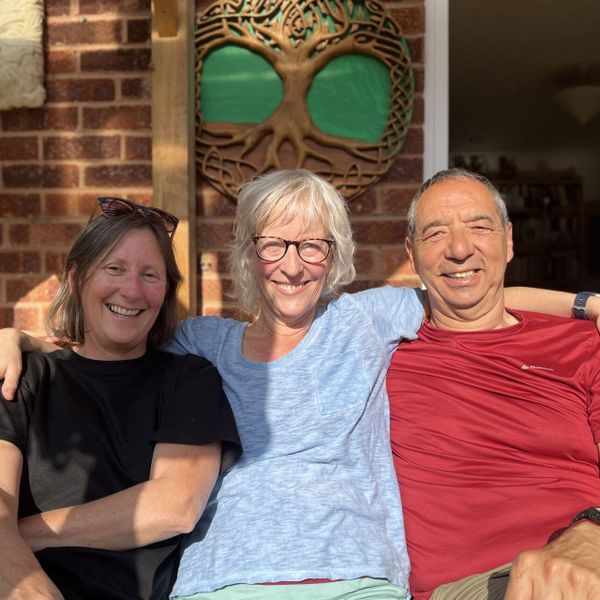 We're on the road this week with a festive episode of the podcast to celebrate Vidyamala: the extraordinary inspiration behind Breathworks who has just been made an Officer of the Order of the British Empire (OBE) in the Queen's Birthday 2022 Honours List. She has been honoured for her Services to Wellbeing and Pain Management as Co-founder of Breathworks, an organisation which teaches mindfulness-based approaches to people coping with pain, illness and stress.
In a riot of birdsong, on a beautiful day in early summer, we were delighted to be able to join Vidyamala in her garden just after the news broke, along with her partner Sona, and her friend Aryajaya. As well as marking the occasion, we remember the very hard road travelled through pain that led to the foundation of Breathworks and its vital contribution to the welfare of so many people.
Having passed on her wisdom to over 600 accredited trainers in 35 countries, Vidyamala's work isn't "just mindfulness"—it's now a whole transformative movement capable of reaching deep into society. In Vidyamala's approach the simple application of awareness and kindness becomes an emotionally intelligent and deeply responsive re-imagining of the Buddhist path itself, ready to meet the huge challenges of suffering in the 21st Century. Vidyamala has brought this beautiful work to bear in her own life with great courage, grace and equanimity, opening up portals to freedom in hearts and minds all around the world.


Show notes

Visit Breathworks
See the Breathworks' course on Mindfulness for Managing Long Covid
Read more about Vidyamala's OBE
Listen to Vidyamala on this podcast back in March 2020:
The Blue Sky at the Heart of the Body