Solving Problems with Technology: Who Says You Can't?
Episode 354,
Jul 22, 2022, 07:00 AM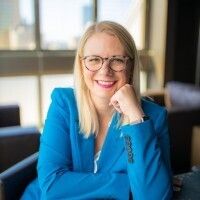 I am sitting down with Amy Pyles in this episode of Women Worldwide to discuss various topics such as how to embrace technology and become better at solving problems!
Amy is the president of Saxum, a digital integrated agency that solves complex problems for brands and organizations! Amy helps brands make more effective connections with those whom they serve – even brands as big and as recognizable as Walmart!
Tune in as she shares her journey, touching upon how she got on this path and how she launched Saxum. Amy also reveals what she believes makes an effective leader and why empathy is so important. 
Amy tells us what her approach is as a marketer, how tennis helps her manage stress, and so much more!
Show Notes:
[0:07] – Today's guest is Amy Pyles of Saxum.
[2:33] – Amy dives into what put her on her path.
[4:40] – Amy argues that innovation can be scary.
[5:50] – What makes Amy an effective leader?
[7:30] – What should women look at in terms of skills?
[9:17] – Amy talks about some of her mentors and influences.
[11:22] – Amy offers advice on how to find a mentor.
[13:15] – One of Saxum's mottos is Who says you can't?.
[14:40] – Amy shares one of her most important lessons learned.
[16:42] – Deirdre recommends the book Surrounded by Idiots.
[17:58] – Amy loves email newsletters and recommends some to us.
[20:15] – How does Amy handle stress?
[22:20] – Hear what a successful day at Saxum looks like.
[24:15] – Amy gives us some parting advice.
Amy's social channels:
Links and Resources:
CONTACT ME: