Tom Patri, Mark Lye, Jonathan Shuskey, & Tony Ruggiero Join Me...
Season 9, Episode 31,
Sep 28, 2022, 11:40 PM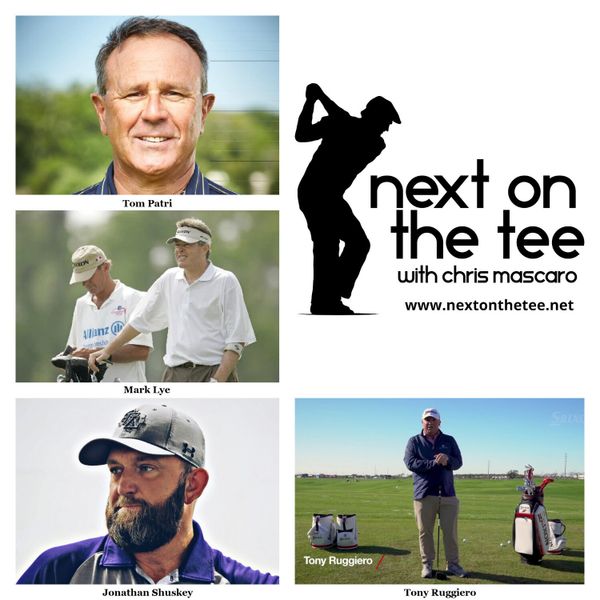 In this episode, I'm joined by 2 of the Top Instructors in the game, Tom Patri and Tony Ruggiero plus former Tour Pro Mark Lye, and 20-year Army Combat Veteran now a 40-year-old member of the Stephen F. Austin men's golf team Jonathan Shuskey.
TP shares his thoughts on the Presidents Cup, the great week that Jordan Spieth, Justin Thomas, and Max Homa had, and the forgettable one that Scottie Scheffler and Sam Burns did. I also get his thoughts on the rise of Tom Kim, and a playing lesson for how to dial in our wedges from 100 yards in.
Mark Lye was an All-American in college at San Jose State and played on Tour from 1977 to 1994. During his high school days, he never lost a match yet colleges thought he was too small and his game was too erratic to recruit him. The only one who came knocking was San Jose State. He made the others school regret their decision. Mark won the 1976 Australian Order of Merit and the 1983 Bank of Boston Classic. Hear those stories and more in his segment.
Jonathan Shuskey was a 20-year Army Combat Veteran who saw 5 tours of duty in the Middle East. We hear about his play on the All-Army golf team, winning the Fort Benning Club Championship 3 times, and what it's like being a 40-year-old Sophomore playing on the Stephen F. Austin men's golf team.
Tony Ruggiero is a Golf Digest Top 50 Instructor and Host of the Tour Coach Podcast. He and I have a lot of synergies with show partners and mutual guests. Tony recently had an amazing conversation with Hal Sutton. We talk about that and how Tour Pros focus on their good shots instead of obsessing over their bad ones. We also get a playing lesson on how to fix our slice and square the clubface at impact.