Siân Blackman - Account Director
Season 3, Episode 94,
Oct 19, 2022, 08:12 AM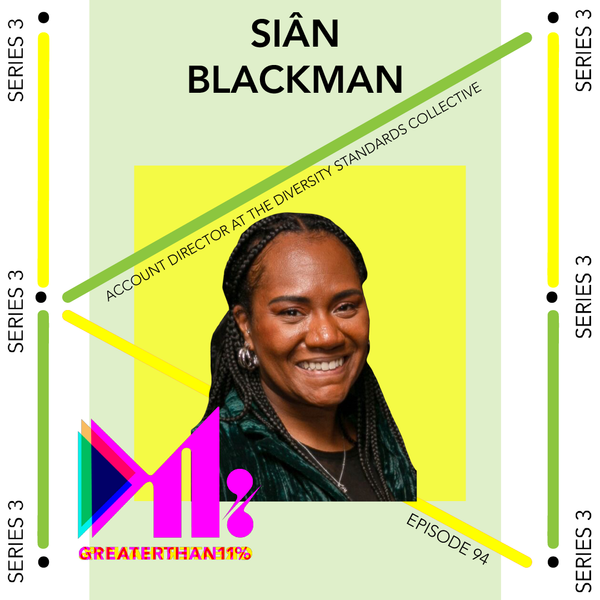 Siân Blackman is Account Director at
The Diversity Standards Collective
(The DSC), an organisation which offers brands and agencies the opportunity to get behind the data - and closer to diverse views and opinions from across the globe -  to drive better representation - into communications.
She shares her journey from studying English Literature and how with hindsight, she can see her thinking around representation was forming through her final dissertation without her being necessarily aware of it at the time.
Siân talks about her creative journey, working firstly at Creative Brief for over five years before joining The DSC and how she has learnt to manage her anxiety when it appears (she even gives a few tips). She also discusses the incredible work that The DSC is doing, with big and small brands to ensure there is a greater representation of lived experience at the point of conception of a campaign / advert.
Not sure what an account director or account manager does? Heard of Client Services but are still unclear about what their responsibilities are? Siân does a great job of explaining the roles and functions of an Accounts team.
Such a fabulous discussion with a truly kind and generous being - a treat to listen to. Enjoy.
---------------------------------------------------------------
🛎 We need your help pushing for change: a more diverse creative industry within years, not decades. Please share the podcast with others who you think may be interested or benefit!
💓
Leave us a review / rating
and we will love you forever.
Be sure to follow us:
📸 Instagram:
@greaterthaneleven
🐦 Twitter:
@Gre4terThan11