Summer Series: A beginning & Claire G Coleman
Season 5, Episode 197,
Dec 25, 2022, 07:30 PM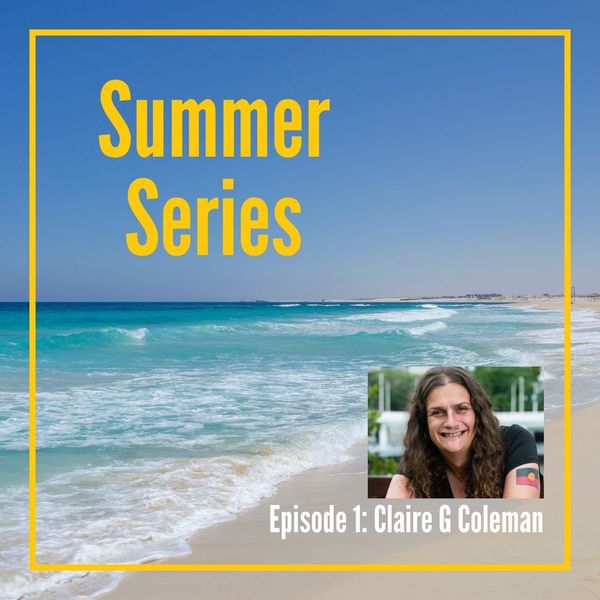 Welcome to our Summer Series! First off we take you back to our very first ever episode in 2018 where we discuss just what
The First Time Podcast
is all about (or at least what we planned back then!).
Then we chat to Claire G Coleman.
Claire G Coleman
is a Noongar woman whose family belong to the south coast of Western Australia. She writes fiction, essays, poetry and art criticism while either living in Naarm (Melbourne) or on the road. Born in Whadjuk Noongar Boodjar (Perth), away from her ancestral country she has lived most of her life in Victoria and most of that in and around Naarm (Melbourne). During an extended circuit of the continent she wrote a novel, influenced by certain experiences gained on the road. She has won a Black&Write! Indigenous Writing Fellowship for that novel,
Terra Nullius
.
Terra Nullius
was published in Australia by Hachette Australia and in North America by Small Beer Press. And was shortlisted for numerous awards including The Stella Prize 2018, ABIA Matt Richell Award for New Writers 2018, the Aurealis Award for a Science Fiction Novel 2017 and was Highly Commended in the Victorian Premier's Literary Awards 2017
Since we first spoke to Claire, she has been incredibly busy. Her second novel,
The Old Lie
, was written in response to what she learned when traveling and was published in 2019 by Hachette Australia.
Lies, Damned Lies
, Claire's first non-fiction book, unpacking the effects of the history of Australia's colonisation, was released on the 1st of September 2021. In 2022, Claire's third novel
Enclave
was published by Hachette.
Check out this episode on our website
www.thefirsttimepodcast.com
or get in touch via
Twitter (@thefirsttimepod)
or
Instagram (@thefirsttimepod)
.
Don't forget you can support us and the making of Season Six via our
Patreon page
. Thanks for joining us and we look forward to bringing you brand new episodes from March 2023!