MALINA, TSYHA, MISHA: TRANSFER EXTRAVAGANZA w/ CBS Sports' Jonathan Johnson
Episode 53,
Jan 19, 05:04 PM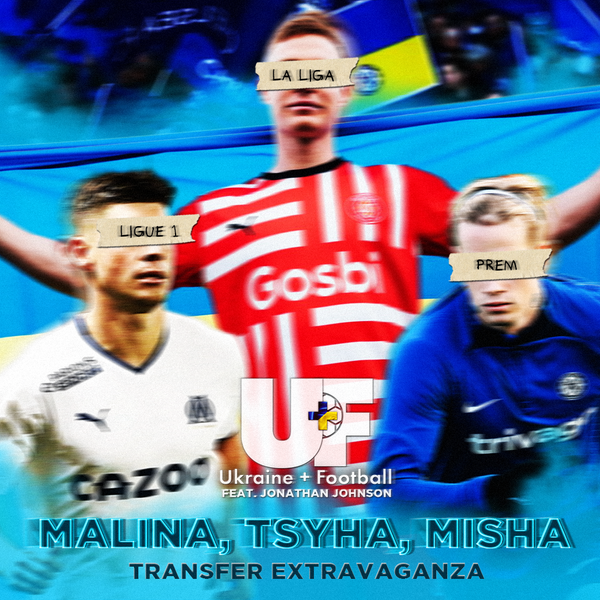 WHAT A WEEK, HUH?!
Andrew
,
Adam
and
Rey
return to the studio to discuss the rollercoaster week of transfer sagas that had FINALLY come to an end! Malinovskyi to Marseille, Tsyhankov to Girona and of course Mudryk to Chelsea!
This week they're joined by France based CBS Sports football correspondent
Jonathan Johnson
who comes on to provide greater details about Malinovskyi's move to Ligue 1, provide updates on Ihnatenko at Bordeaux and share what a Mudryk-less Shakhtar can expect against Rennes next month!
The guys focus on:
The Social Media Transfer Saga - Mudryk to Chelsea!
How did it all happen?
Will Mudryk be a success there?
The derussification of Chelsea is well underway!
Malinovskyi at Marseille
How have his opening few games gone?
Will he fit in at the Ligue 1 club?
What system and football do Marseille play?
What are the expectations of the fans?
Ihnatenko at Bordeaux? Rennes form ahead of Shakhtar?
Tsyhankov has finally escaped the golden cage?
How did he end up at Girona?
Will he play there and will this set a precedent for others?
Is Ukrainian football moving towards a Croatian model?
Petrakov leaves UAF and gets the Armenia job... What? Why?
Listen to the above and MUCH, MUCH MORE in our latest episode!

**********************************************

ORDER
the new charity special
Glory Mag
Ukraine
special
here


**********************************************
Want to help the victims of russian shelling in Kyiv region rebuild their lives with new modular homes?
More Info & ways to donate here:
nestprytulafoundation
************************************************
Please
subscribe
to
Ukraine + Football
on your favoured podcast provider and leave a review if you are able to!
You can also RATE us on Apple Podcasts & NOW Spotify - please give us
5 stars
if you are able to!
We are also now on YOUTUBE - for vlogs and live streams please subscribe here:
https://www.youtube.com/channel/UCyiNMhP18iGwwov5FkcMY7Q
Please email any questions, feedback or ideas to:
ukraineplusfootball@gmail.com
Update Description