Episode 5: Federal University Fun at Wrottesley-Rummidge
Episode 5,
Feb 19, 11:32 AM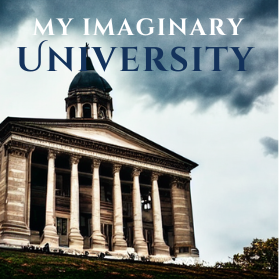 In this episode Andy Westwood, Professor of Government Practice at the University of Manchester, creates an imaginary university formed from a distinctive combination of redbrick, plate glass and post-92 universities as well as an FE component. 
Wrottesley-Rummidge University aims to be more than the sum of its parts and presents itself as a university that doesn't know its place but knows its place. It has a tiny medical school but a huge social science offering. The university has a strong civic mission but also has an international profile which is helped by the multinational make up of the local football team. 
The university's federal structure is sufficient to confuse the rankers and it also intends to push back firmly against the various regulatory authorities with the aim of creating a new framework for regulation for the sector.
Music, drink and food are important here and there is a massive students' union building which Andy expects to attract bigger acts than he managed when events manager at Manchester's SU. 
The only things banned at the university are service hubs and in terms of the campus vibe, responding to the suggestion it sounds like Paris in the late 60s, Andy proposes the feel is much more South Bank (another football link) than Left Bank.
Wrottesley-Rummidge is a very distinctive kind of federal university then with an unsurprising anthem given its Midlands musical heritage and a very charismatic chancellor too. It's a really enjoyable and creative effort from Andy.