LUCK, PENS & THE UPL RETURN w/ Andy Brassell
Episode 55,
Feb 27, 08:40 PM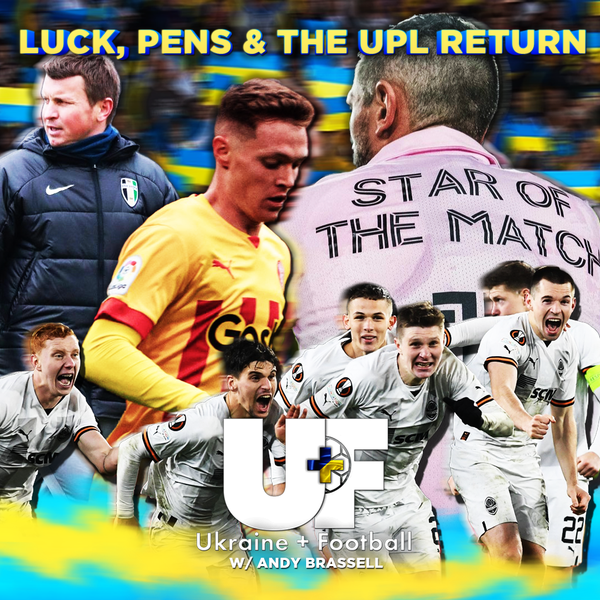 Rey
,
Andrew
and
Adam
are back with another high fuelled edition of the # 1 English language podcast on Ukrainian football! So much has happened since the last episode and there's so much to come in the next week too as the UPL resumes following it's long winter break.
This week they're joined by football writer, journalist, podcaster & renowned European football expert
Andy Brassell
(Football Ramble, Guardian, TalkSPORT Trans Euro Express) to discuss Shakhtar's start to their European Spring!
The guys discuss:
One year on from russia's full scale invasion of Ukraine
How was the occasion marked across the World?
Divine Intervention for Shakhtar to win at Roazhon Park?
Trubin - the next big Mudryk style transfer out of Shakhtar?
Feyenoord - what can Ukrainians expect from the Eredivisie leaders in the next round?
Why and how have Shakhtar continued to be so successful despite their against all odds circumstances?
ALSO...


Dnipro-1 throwing Europe to focus on UPL challenge?
Ukraine play England in less than a month at Wembley...
Can Rotan juggle three jobs at once and get a result v England?
Zabarnyi and Yarmolenko injury concerns...
Konoplyanka's surprise return?
Kryvtsov's DREAM debut in MLS for Inter Miami
Has he got a chance of getting a call up?
FC Polissya taking inspiration from David Beckham?
Mid season winter tournament updates
Listen to the above and MUCH, MUCH MORE in our latest episode!

**********************************************

ORDER
the charity
Glory Mag
Ukraine
special
here


**********************************************
Want to help the victims of russian shelling in Kyiv region rebuild their lives with new modular homes?
More Info & ways to donate here:
nestprytulafoundation
************************************************
Please
subscribe
to
Ukraine + Football
on your favoured podcast provider and leave a review if you are able to!
You can also RATE us on Apple Podcasts & NOW Spotify - please give us
5 stars
if you are able to!
We are also now on YOUTUBE - for vlogs and live streams please subscribe here:
https://www.youtube.com/channel/UCyiNMhP18iGwwov5FkcMY7Q
Please email any questions, feedback or ideas to:
ukraineplusfootball@gmail.com
Update Description