BANS, RECORDS & A CLASICHNE (Preview)
Episode 59,
Apr 20, 06:30 PM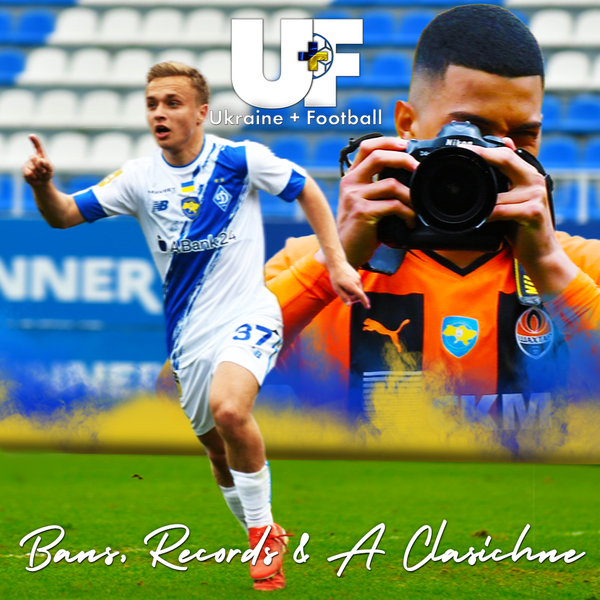 Andrew, Adam & Rey delve deep into the happenings in and around Ukrainian football over the past couple of weeks...

Is this weekend's upcoming Clasichne, the least anticipated derby match in recent history? Can it hopefully surprise an audience will little expectation?

The guys also talk :
Is the title wrapped up now?

Shakhtar 7 clear over Dnipro-1 (who have a game in hand?) 
Raining goals in the relegation battle
Escape from the drop is shaping up nicely
Lviv on their way out of the UPL?

The rest are still delicately poised… (just like the EPL)

Is this the best season we've encountered in recent years?
Highly competitive / unpredictable?
Referee CHAT
Boyko in MLS refereeing
Chervak banned for 6 months and sacked by Polissya

rus / belarus new order from Ukraine ministry of youth and sport
What is going to happen to football?
Is this the right way to go about?
Adam's trip to Metz v Bordeaux & Ihnatenko watch 
Listen to the above and MUCH, MUCH MORE in our latest episode!

**********************************************

ORDER
the charity
Glory Mag
Ukraine
special
here


**********************************************
Want to help the victims of russian shelling in Kyiv region rebuild their lives with new modular homes?
More Info & ways to donate here:
nestprytulafoundation
************************************************
Please
subscribe
to
Ukraine + Football
on your favoured podcast provider and leave a review if you are able to!
You can also RATE us on Apple Podcasts & NOW Spotify - please give us
5 stars
if you are able to!
We are also now on YOUTUBE - for vlogs and live streams please subscribe here:
https://www.youtube.com/channel/UCyiNMhP18iGwwov5FkcMY7Q
Please email any questions, feedback or ideas to:
ukraineplusfootball@gmail.com