Strike Force Five - #785 Part 1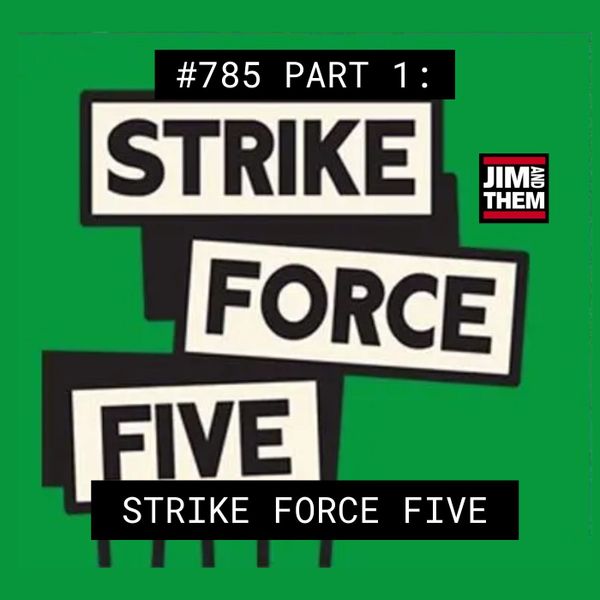 Jim and Them ring in the spooky season, they talk about getting emotional, India landing a rover on the moon and the new Late Night host podcast STRIKE FORCE FIVE.
Crying:
Are people getting too emotional over nostalgic/new IPs? Where is the line? A new movie trailer? A sad pet video? A dad seeing colors for the first time!?
Moon Part 2:
We revisit the India rover moon landing and delve back into the theories around space travel and leaving low Earth orbit.
Strike Force Five:
The Late Night hosts have entered the podcastsphere! Let's check in on their new podcast that has been launched to support their staffs during the strike.
LET'S JUST TALK!, BOOGIE NIGHTS!, DON CHEADLE!, STORMY!, MONSOON SEASON!, HHN OPENING NIGHT!, THE LAST OF US!, STRANGER THINGS!, CRYING!, EMOTIONAL!, DETAIL!, NEIL DRUCKMANN!, NOSTALGIA!, FIVE NIGHTS AT FREDDYS!, NINJA TURTLES!, MICROPLASTICS!, EVERYTHING EVERYWHERE ALL AT ONCE!, TIKTOK DOG!, SPIKEY MICHAEL!, THEDODO!, GRUMPY DAD!, CHARITY!, ORPHANS!, SCRUBS!, BRENDAN FRASER!, DR COX!, WHO'S READY FOR FALL!?, ORLANDO!, PATREON!, IRELAND!, TAX HAVEN!, INDIA'S MOON LANDING!, ROVER!, LOW EARTH ORBIT!, SHUTTLE!, VIDEO!, REACTION!, N64!, UNMANNED!, SLOT REGIONS!, PARTICLES!, 3D ANIMATION!, AUTOCAD!, MOON COPE!, INDIA'S FLAG!, SLUT ERA!, SPACE ISN'T REAL!, OLDBOY!, HALLWAY FIGHT!, SEND MOON!, SEND BOB!, PERVERTS!, HORNY!, CULTURE!, REPRESSED!, FORCE FIELD!, FOLEY GUY!, SOUND EFFECTS!, POLICE ACADEMY!, CADDYSHACK!, GOPHER!, BILL MURRAY!, MURDER SUICIDE!, INCANTATION!, DAILY SHOW!, STRIKE FORCE FIVE!, LATE NIGHT HOSTS!, PODCAST!, STEPHEN COLBERT!, JIMMY KIMMEL!, JIMMY FALLON!, JOHN OLIVER!, SETH MEYERS!, QUALITY!, ZOOM RECORDING!, BORING!, AMBER RUFFIN!, CARSON DALY!, ANIMANIACS!, AVENGERS!, LITERARY REFERENCE!, STONE FACED!, LEAVE!, PODESTA!, SOMEBODY THAT I USED TO KNOW!, CONCERNED!, STOPPING THE SHOW!, MEMORY HOLED!, 2 BEERS DEEP!, 9 BEERS DEEP!, SPIN A YARN! 

You can find the videos from this episode at our
Discord RIGHT HERE
!