UKRAINE SEPT Q PREVIEW: ENGLAND & ITALY w/ Simon Peach
Episode 66,
Sep 06, 06:59 PM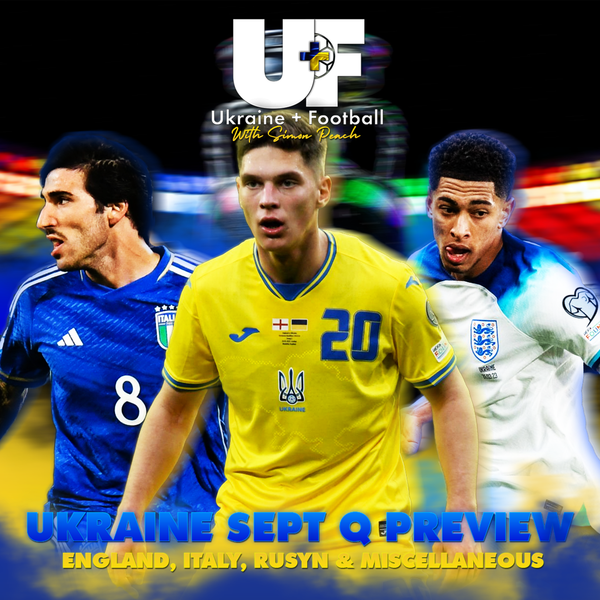 Andrew, Adam, Rey
reconvene to look ahead to a huge week for Rebrov's national side as they take on England and Italy in key qualifiers for Euro 2024!
Simon Peach
-  PA's chief football writer as well as their Man United & England reporter joins us to help take on the upcoming fixtures!
The guys chat:

Part 1:

Recalling the March game...
What went wrong back then 
Differences for both England and Ukraine since then!
June internationals recap
Ukraine squad dissected
Injury news!
Players' form in recent weeks
What's the England squad looking like?
How will England approach it?
The Wrocław effect - Is it a good place to host? 
Italy examination 
New manager Spalletti
A team in transition?
The San Siro
Part 2:
Rusyn to Sunderland
Dynamo exodus
European competition disasters
Zorya under Bartulovic - assessing their UECL Group
Dynamo with nothing but the league to play for
Dnipro-1 moving to Dnipro with no manager
Metalist 1925 takeover 
Dulub in at LNZ
Should we step back and look at Ukrainian football from a different perspective given the current realities?
Listen to the above and MUCH, MUCH MORE in our latest episode!

**********************************************

ORDER
the charity
Glory Mag
Ukraine
special
here


**********************************************
Want to help the families of fallen ultras cope through the first difficult months without their husbands, partners, fathers, brothers and sons?
More Info & ways to donate here:
standsofheroes.com
************************************************
Please
subscribe
to
Ukraine + Football
on your favoured podcast provider and leave a review if you are able to!
You can also RATE us on Apple Podcasts & NOW Spotify - please give us
5 stars
if you are able to!
We are also now on YOUTUBE - for vlogs and live streams please subscribe here:
https://www.youtube.com/channel/UCyiNMhP18iGwwov5FkcMY7Q
Please email any questions, feedback or ideas to:
ukraineplusfootball@gmail.com