Guess Who' Back ft. Mazi & Amy Luciani- Big Homies House Ep. 157
Episode 157,
Oct 02, 03:34 AM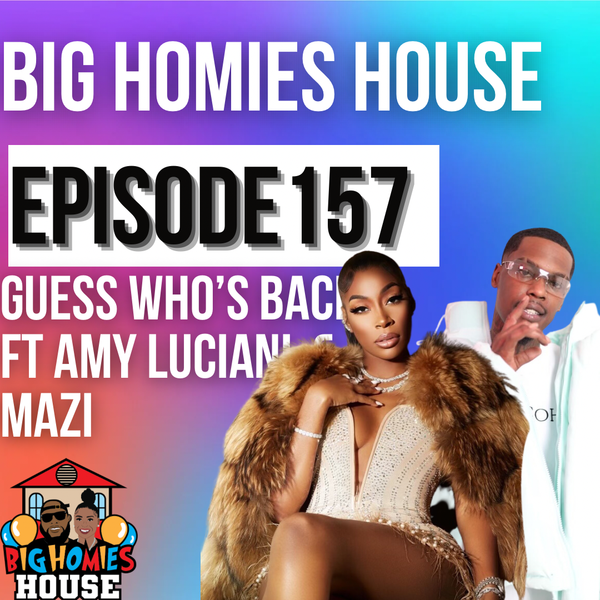 Guess Who' Back ft. Mazi & Amy Luciani-  Big Homies House Ep. 157

#LOVEANDHIPHOP #BIGHOMIESHOUSE #AMYLUCIANI #MAZI #lhhatl


This weeks we have the Homies Mazi and Amy kicking it with us for a conversation! We talk about kids and prom night expectations, why you can't trust others to care for your kid like you do why you shouldn't trust someone who calls their friends brother or sister. Also, should you watch how you dress around your friends partners? And have women outgrown the need for men? All of this and more with your Homies!


BIG HOMIES HOUSE AUDIO HERE:
https://podcasts.apple.com/us/podcast/the-big-homies-house/id1520022230
This Weeks Guest: 
@mazigbgga
@amylucianiaworld
TIMESTAMPS 
11:07 - Should You Threaten Kids With Violence Before Prom
14:46 - Why Are You A Fan O A Kid????
18:48 - Who Is Influencing Your Kids??
28:41 - Should You Cut Off Friends Who Aren't Passionate 
30:34 - Are Your Friends A Reflection Of You 
31:33 - Can You Go Out With Your Hoe Friends 
35:28 - Are You Cool Wit Your Partner Getting Complimented 
41:06 - Do You Trust Someone Who Has Too Many BROTHERS/SISTERS 
46:16 - Should You Have On Bikini Around Your Friends Man 
54:12 - Can You Accept A Drink While You're With Your Man?
58:15 - Do You Check Your Friend For Being Disrespectful To Your Spouse
1:03:20 - Would You Allow Your Man To Cheat PROFESSIONALLY 
1:12:44 - Men Don't Want A Woman That Let Him Do ANYTHING 
1:13:32 - We Want Our Parents 
1:18:24 - Women Don't Need Men Anymore?
Big Homies House, The Big Homies House, Big Homie Kodaq, Big Homie Jojo, ATLANTA RADIO, ATLANTA, PODCAST, ATLANTA PODCAST, IHEARTRADIO, iheartatlanta, iheartpodcasts, Big Homies House, BREAKFAST CLUB, CHARLAMAGNE THE GOD, DJ ENVY, REVOLT TV, REVOLT WORLD RECAP, DIDDY, BLACK GIRL STUFF, ZEUS NETWORK, NOWTHATSTV, CHRISEAN AMY LUCIANI, MAZI, LOVE AND HIP HOP LHHATL, TAYLOR SWIFT,