Episode 90 Bonus: SBFC in the Streets of Fanfest and in the Mixzone at the 2023 NWSL Championship Game
Episode 90,
Nov 19, 10:20 PM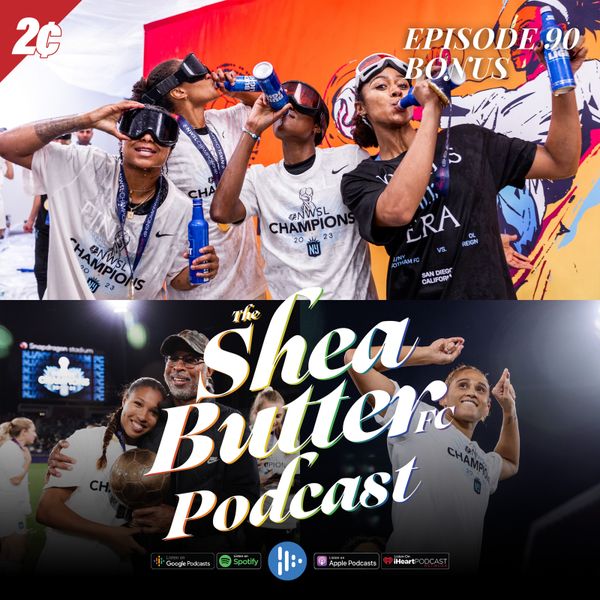 Welcome to episode 90 part Bonus of Shea Butter FC, a podcast by, for and about Black women in soccer. In this episode,  Skye and Sylvs talk to various Black and brown fans at Fanfest before the NWSL Championship Game in San Diego, and then featured is the audio from the Mixzone post Championship Game including interviews from  Alana Cook, Kristen Edmonds, Yazmeen Ryan, Lynn Williams, and Midge Purce. 
As noted in the episode, we are partnering with
Black Rosie Media
to play select Shea Butter FC Throwback Episodes on their media platforms. This partnership is made possible through sponsorship by
Bounceless Control Sports Bra
 use
PROMO CODE SBFC
for 15% off your first purchase at
bounceless.com.
More information on this partnership with Black Rose Media, and Bounceless Bras can be found
here
. 
As always, like, rate and subscribe to the podcast on your favorite platform and Follow us on:
Twitter -
@sheabutterfc
Instagram -
sheabutterfc
Join our SBFC Patreon -
https://www.patreon.com/sheabutterfc
Visit our website, get up to date on episodes and all things SBFC at our Linktree:
https://linktr.ee/sheabutterfc
SBFC Website: 
www.sheabutterfc.com
Make sure you support Maya and follow Kick Undefined on IG @
kicksundefined
Much love and appreciation to KC Nevijay for letting us use some of his beats and mixes within many of our episodes. His beat appears at the intro piece at the beginning of the episode. Peep his other work at YouTube Channel @
KC Nevijay
Also much love and gratitude goes to D.O.P.E Chick Beats for allowing us to use some of her beats for several of our episodes. Her beats appear during SBFC Superlatives and at the end of the episode.  Follow her on ig : 
alexandria_theaudiowiz
and on twitter:
DOPECHICKBEATS
Photo featured in this  episode is of various Gotham FC players after their NWSL Championship Game win by Shea Butter FC Street Team Legend and 2Cents Fam Georgia Soares. Follow Georgia on instagram at 
georgiasoaresphoto