Discussing John Bale's Biblical Plays
Episode 58,
Mar 20, 2019, 10:41 AM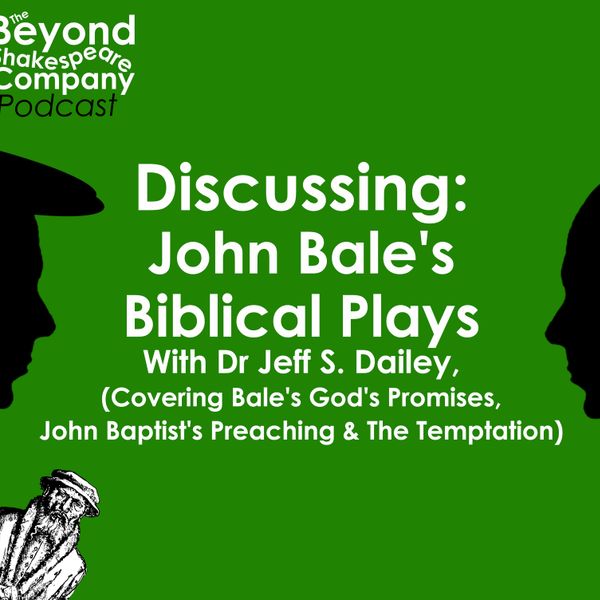 Discussing: John Bale's Biblical Plays
Host Robert Crighton discusses with Dr Jeff S. Dailey the Biblical plays of John Bale - God's Promises, John Baptist's Preaching and The Temptation (of which we have recordings on the podcast).  Jeff Dailey produced two of John Bale's Biblical plays in 2017 (John Baptist's Preaching and The Temptation) – details about the production, cast and photos, can be found at http://johnbaleplays.blogspot.com/
Dr Jeff S. Dailey earned his PhD in theatre from NYU, with additional study at Wagner College, The College of Staten Island, The Folger Institute, New York Theological Seminary, General Theological Seminary, and Union Theological Seminary.
This episode was recorded in late 2018 and features clips from some of our work - and includes some sound effects from https://www.zapsplat.com and http://www.freesfx.co.uk.
Excerpts from God's Promises: Noah, Alan Scott - Abraham, Geir Madland – God, Robert Crighton
Excerpt from Robin Hood and the Friar: Friar Tuck, Heydn McCabe – Robin Hood, Geir Madland Excerpt from Exploring John Baptist's Preaching: Pharisee & Sadducee, Mark Scanlon and Mark Holtom – Jesus, Richard Fawcett
Excerpt from Exploring The Temptation: Satan, Alan Scott 
Support this podcast by going to www.patreon.com/beyondshakespeare or follow us @BeyondShakes on Twitter.