Brother UK Cycling Podcast - E-Racing Special Edition
Season 1, Episode 5,
Jul 27, 2020, 05:00 PM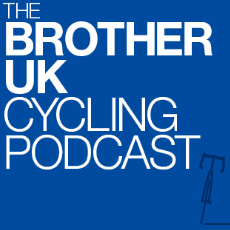 E-racing has become cycling's most popular discipline since the introduction of Covid-mandated lockdowns. Cyclists using so-called 'smart' trainers compete online in digital worlds. Watts transmitted from real-world riders power avatars around virtual courses. Exhausting races force indoor cyclists to 'go deep' for success. E-cycling is fundamentally an athletic endeavour and, therefore, the most credible e-sport.


E-racing has filled the competitive void created by race cancellations. Professional cyclists have embraced platforms like Zwift and RGT Cycling. Further, race organisers have reimagined real-world events as digital competitions. The Virtual Tour de France is the biggest to date. The Skoda V Women's Tour represents a further, significant example.


This episode features expert witnesses from professional cycling's new frontier. Riders, race organisers, technical partners and major sponsors offer insights. E-racing represents more than a digital fix to Covid-mandated cancellations. It has potential to address the sport's endemic commercial weaknesses. We explore online racing's full significance with commentary from five informed observers.


Phil Jones MBE is the Managing Director of Brother UK. He has made the company British road racing's leading sponsor. His passion for the sport is balanced by commercial expertise. Return on investment is an essential requirement of Brother's sponsorships. Phil's observations on e-racing's vast commercial potential offer real insight.


Peter Hodges is the Sweetspot Group's PR and Communications Director. He was one of four people there who worked throughout lockdown. Their efforts delivered the Skoda V Women's Tour. Peter shares experiences from building a world-class e-race from scratch. His insights include observations on e-racing's more youthful demographic.


Leah Dixon triumphed in the inaugural Skoda V Women's Tour. Her Virtual Tour de France debut was highly successful, too. Leah and her Tibco-Silicon Valley Bank squad dominated the race. She reveals the critical role e-racing played in her development, and she describes the genuine emotions that accompany virtual victories.


Chris Snook is Senior PR Manager for market leader Zwift. The game-changing e-racing platform powered the Virtual Tour de France. Chris reveals the demands of rendering cycling's biggest event digitally. New 'worlds' created for the race included a virtual Champs-Élysées. Chris, a former racer, also reflects on e-racing's commercial potential.


Anna Henderson is the British U23 road and time-trial champion. She is a professional cyclist who races for Team Sunweb. Anna's performance in the Virtual Tour de France was impressive. She reflects on e-racing's comparative value to a professional team focussed on road racing. And she shares insights on e-racing as a collaborative endeavour.


Timothy John is a journalist, presenter, producer and brand consultant. He co-hosts the Brother UK Cycling Podcast with Phil Jones. Tim has covered cycling as editor of
RoadCyclingUK.com
and
Rouleur.cc
. His editorial and commercial experience afford him an holistic view. He explores the e-racing phenomenon as an impartial observer.