Whistleblowing with Professor Kate Kenny
Episode 26,
Apr 29, 2021, 12:00 AM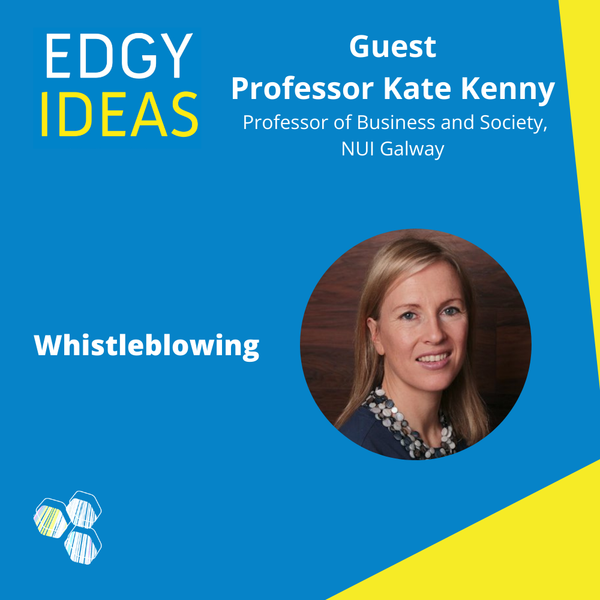 Professor Kate Kenny is a leading expert in the field of Whistleblowing.  In this podcast Kate draws on psychosocial approaches to take a fresh look at Whistleblowing.   Whistle-blowers are consistently treated by the media and public as traitors or hero's. Take Edward Snowden, for some he is a courageous hero who sacrificed his career and put himself in danger for 'truth-telling', for others he is a traitor for giving away secrets to enemies of the state.  Kate builds a broader case that situates whistle-blowers in their organisational and social context. In this fascinating conversation Kate discusses how whistleblowing is an organisational phenomenon and how group and social dynamics influence how whistle-blowers act, and how they are responded to.  Many organisations respond positively to whistle-blowers yet some continue to enact 'whistleblower retaliation'.   Kate also discusses the importance of organisations more generally, and how they impact on our psychic and emotional lives, individually and collectively.  
Bio
Kate Kenny is Professor of Business and Society at NUI Galway.  She has held research fellowships at the Edmond J. Safra Lab at Harvard University and Cambridge's Judge Business School.  Her research focuses on organization studies, specifically political and psychosocial approaches. She has researched whistleblowing in organisations since 2010. Along with numerous articles in peer review journals on this topic, she has published two books on whistleblowing: Whistleblowing: Toward a new theory (Harvard University Press, 2019) and The Whistleblowing Guide (Wiley Business, 2019, with Wim Vandekerckhove and Marianna Fotaki). She has written and contributed to articles in the Financial Times, the Irish Times, the Guardian among others.  Her work has been cited in the UK House of Commons, Ireland's parliament and in policy documents at EU level.  Kate's recent book '
Whistleblowing: Toward a New Theory'
(Harvard University Press, 2019)  adopts a psychosocial framing to whistleblowing. Her book '
The Whistleblowing Guide'
(Wiley, 2019) with Professors Wim Vandekerckhove and Professor Marianna Fotaki is aimed at practicing managers, coaches and others working in this space. The
Psychosocial and Organization Studies
(Palgrave, 2014 with Professor Marianna Fotaki) is an edited collection of contributions from experts in this field. Watch an interview with Kate and
Chris Smalls, Amazon whistleblower
mentioned in the discussion.  Short pieces on Covid-19, healthcare and whistleblowing (as mentioned), featured in the
The Conversation
and
RTE Brainstorm
  Reports, videos and research from Professor Kenny are all on
www.whistleblowingimpact.org