HOMIES DOWN UNDER ft. Enzo McFly, Juiicy, Dakota - Big Homies House E:77
Episode 77,
Aug 29, 2021, 09:00 PM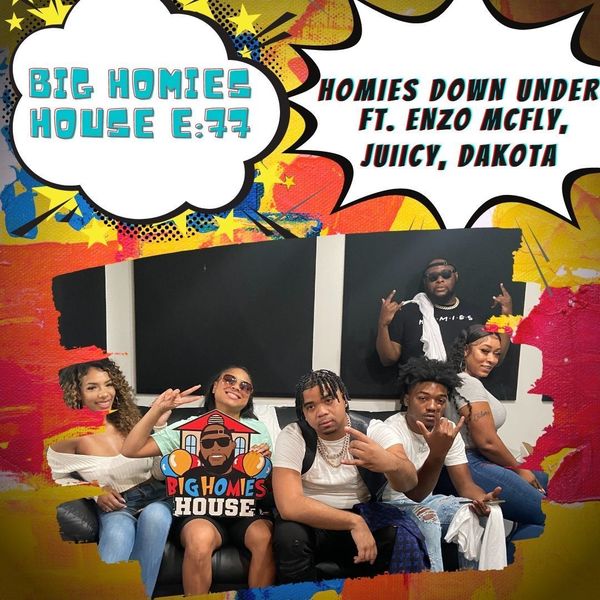 HOMIES DOWN UNDER ft. Enzo McFly, Juiicy, Dakota   -  Big Homies House E:77
 #brittanyrenner #PJWashington #HotGirlSummer #BigHomiesHouse
We had the homies, Enzo McFly, Juiicy, Dakota, and Jarri kicking it with us this episode and for the 77th time we have a lot to show for it!
We kick things off asking the most important question… why aren't predatory women given the same type of treatment as predatory men??? Can money make a man attractive?? Jojo and Juiicy break down the CITY GIRL PLAYBOOK, and we dig into some of the new music coming from HOUSTONS OWN, Enzo McFly !!! All this and more, tap in!!!!!
Enzo McFly SINGLE "BLUE FACES" AVAILABLE HERE:
ALL PODCASTS AUDIO AVAILABLE HERE: 
For EXCLUSIVE BEHIND THE SCENES FROM THE SHOW. CLICK HERE:
ThJuiceBoxShowDotCom BTS HERE:
This weeks Homies are 
@juiceboxshowdotcom
@dakotaxtaren
@enzomcfly 
TIMESTAMPS: 
3:08 - Why Are Women Allowed To Be Predatory?
7:37 - Why Do Younger Women Chase MUCH Older Men?
10:12 - Does Money Make A Man Attractive ?
12:05 - The City Girl Playbook 
17:08 - Is Finessing A Skill??
22:13 - Why Do Women Feel Entitled To A Mans $$$
24:30 - What Is "Staying Down"???
29:35 - If You Get Beat Up, Defending Your Girl, Should You Break Up With Her?
30: 57 - If Your Man Gets Knocked Out Defending You, Are You Leaving Him?
38:50 - If You Fall For Someone, And Find Out They're In A Relationship, Are You Leaving?
59:22 - Ring Or Paid Off Debt??
1:00:44 - BIG HOMIES KITCHEN - Enzo McFly 
Big Homies House, The Big Homies House, Big Homie Kodaq, Worldstar, Brittany Renner, Melo Ball, PJ Washington, Pittsburgh Steelers, Hurricane IDA, 1501 Certified, Meg Thee Stallion, Houston Rappers, Houston Texas, Houston, City Girls