Medieval Inglesham – Three Counties Walk
Episode 32,
Mar 13, 2022, 05:00 AM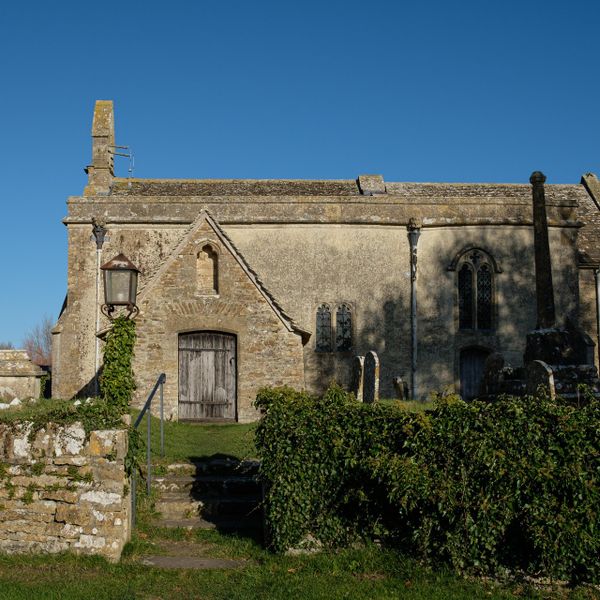 Since the main part of this podcast is about a short five mile walk we thought this would be a shorter episode than normal. But how wrong we were. We still managed to blather on for what seemed like hours!
We kick off with some concerning news about some unedifying scenes in the Facebook Group today with a discussion about Paul's bottom. This is a family show and we've no idea what prompted such a debate. Much!!
Despite eye watering petrol and diesel prices we've managed to get out a little in the last two weeks. Glyn had a weekend in Wells but that's in Somerset so we're not interested! But he did see the sad spectacle of the broken spire of St Thomas' Church, blown down during Storm Eunice like a scene from Hot Fuzz, also filmed in Wells. Meanwhile Paul had a reminder of how grim London is, but since that's not in Wiltshire we're not interested in that either.
But Paul did manage to do a day long walk based in the hills around Aldbourne, visiting the site of the abandoned village of Snap on the way. We're grateful to Andrew Rumsey, Bishop of Ramsbury, for helping us find it. There's a link to his fantastic book, English Grounds, below. Paul posted a blog with lots of photographs of the walk on 9 March. There's a link to it below. We'll do a podcast about it sometime.
Another recent blog posted on the website was one about the Russian scientist Vladimir Artemovich Pasechnik who defected in the 1980s and moved to Shrewton. He worked at the UK Department of Health's Centre for Applied Microbiology & Research (CAMR) at Porton Down and went on to do some ground breaking research into tuberculosis and other drug resistant infections. He is buried in one of the churchyards in the village. You'll find a link to the blog below.
Otherwise, Glyn has been playing with his new toy, a 360 degree camera which he's managed to hook up to our outside recording equipment. Watch out for content produced with this gear in the future. If it ever stops raining. Meanwhile Paul has walked a few of his regular routes onto Salisbury Plain. The current extensive Army training exercises and the heavy armour have made a dreadful mess of the sodden ground on the Plains. But nearby the haven that is Parsonage Down is beginning to show the first signs of Spring and there's been some interesting research taking place about the impact of grazing on the flora there.
Our main subject this week is the walk that Paul and his walking buddy Stu did in November 2021 which was the subject of a Blog dated 26 November entitled Medieval Inglesham – Three Counties Walk. Continuing this episode's theme of straying beyond Wiltshire this walk in the extreme north-east of the county involved brief forays into neighbouring Gloucestershire and Oxfordshire. But this was necessary in order to reach our objective.
This part of Wiltshire forms a finger shaped wedge into Gloucestershire and Oxfordshire. But we began the walk in Lechlade-on-Thames in Gloucestershire, and very nearly got no further than the splendid Sourdough Revolution artisan bakery and café. We could quite happily have stayed there all morning! But we were on a mission so we re-crossed Halfpenny Bridge and followed the south side of the Thames, safely back in Wiltshire, en-route to our objective – the Church of St John the Baptist at Inglesham via a thoroughly ugly lock-keepers cottage that looked like a concrete cooling tower on the way. 
We were concerned the church might be locked but were relieved to find it open. And oh my, what a sight awaited us as we opened first one door then another. We'll leave you to read the blog and look at the photographs but suffice to say this spectacular and unique little church was thoroughly worth the trip. And of course, having forgotten what he'd had for breakfast this morning, Paul managed to also forget that he'd posted something on the Hidden Wiltshire Facebook page about a feature on Channel 5 about the church where Tony Robinson interviewed our favourite stonemason Andrew Ziminksi. It was broadcast on 8 October 2021.
From the church the walk took us to Buscot Weir via Buscot Wick before returning to Lechlade via the Thames path, criss-crossing counties as we went. We passed by the impressive Buscot Old Parsonage where American voices were to be heard. In the podcast Paul said he didn't know who owned it after its previous owner, art collector Peter Francis Carew Stucley, died in 1964. Subsequent reading revealed it is now owned by the National Trust who also own nearby Buscot Park. Stucley's will stated that the property should be rented furnished to American citizens actively pursuing literary, artistic or academic studies. And it clearly is to this day.
In all the walk was a flat and easy five miles, although at this time of year it may be boggy in places.
Then on to the wrap up:
Steve Dixon's piece leading into our main subject today is called "Fragile" because it sounds as though it was performed on a church organ! As ever the piece in the introduction and at the end of the podcast is entitled "The Holloway".
Don't forget to check out the Hidden Wiltshire online shop on the website if you'd like to help us keep the lights on. Both Hidden Wiltshire books can be purchased there. The second book is also available at Devizes Bookshop, Wiltshire Museum in Devizes and now Wiltshire's libraries. And don't forget to subscribe to the Hidden Wiltshire Newsletter from the website. You can also subscribe to alerts about new Blogs.
Links:
Andrew Rumsey's beautiful book, English Grounds – A Pastoral Journey, can be found here
English Grounds
and at other booksellers of course.
Glyn's photographs can be seen on his Instagram feed
@coy_cloud
He is also very active on Twitter where his username is @Glyndle