The Creative Spark Ep. 115 with Guest Mike "Smidi" Smith
Season 1, Episode 115,
Apr 13, 2022, 03:29 PM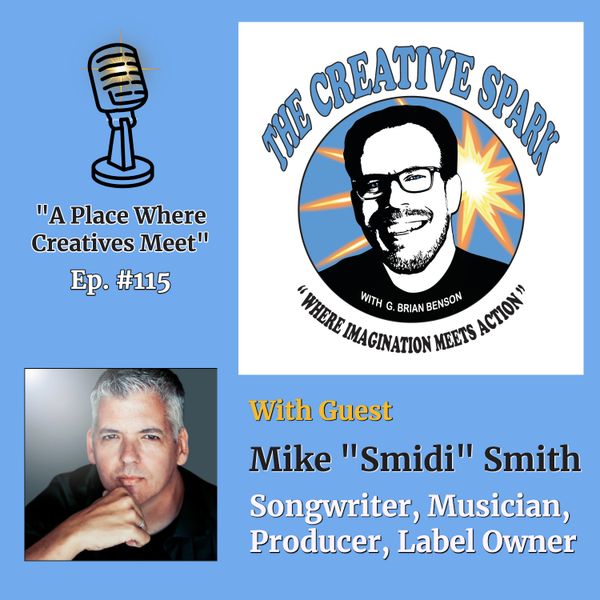 Ep. 115  -My guest this week is Mike "Smidi" Smith, an award-winning songwriter, musician, mixer, producer and record label owner who now has a media branch that is beginning to produced TV and Film projects. 

He is an Emmy, Clio and Addy Award winner who has written and produced songs that have sold over 14 million copies worldwide including multiple #1 songs, albums and top ten hits.  Smith has worked with Giorgio Moroder, Sia, Coldplay, Ke$ha, Miley Cyrus, Britney Spears, One Republic, Tyrone Wells and many others.  Smidi began his career as a keyboardist, playing in bands with Keith Urban and Ben Folds.  After moving to Los Angeles, Smith signed a publishing deal with Sony ATV and began focusing on album writing and production.  
Smidi's music has been licensed and placed in thousands of TV shows and commercials.  He has 4 Emmy nominations for his work in television and won BMI's Film and TV award in 2019.  
Internationally, Smidi is known for his global theme for Live Earth, the largest televised concert in history.  His theme opened the event delivered across 7 continents with concerts in New York, London, Sydney, Tokyo, Shanghai, Rio de Janeiro, Johannesburg and Hamburg. 

Most recently, Smidi is co-founder of the music and media label Saint Rogue along with his partner TJ Stafford. His tenured licensing experience has been instrumental to Saint Rogue's rapid success in TV and film.
Join Mike and I as we talk about his career in the rapidly changing music industry, some of his special projects and where he thinks the music industry is headed.  You won't want to miss it!
Learn more about Mike:
Websites:
https://www.smidimusic.com