Telling Untold Stories of Women in Tech with Zoe Philpott from 2zero3zero
Season 2, Episode 14,
Aug 25, 2022, 09:22 AM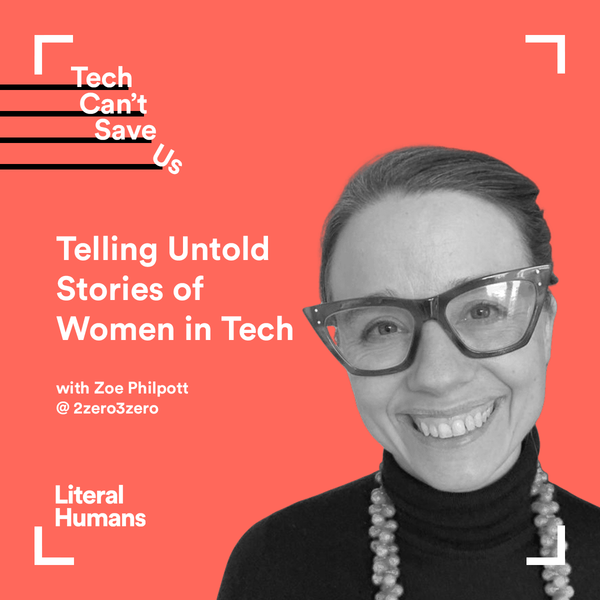 In this week's episode of Tech Can't Save Us, we speak to award-winning experiential storyteller Zoe Philpott on proprioceptive robots, underappreciated women in tech, and the importance of using emotion-driven stories to bring about social change in the Digital era.
In this week's episode, we speak with  Zoe Philpott—Co-Founder of
2zero3zero
and creator of Ada.Ada.Ada—who speaks on storytelling, creative innovation, and gender equality in tech.
Zoe is an award-winning experiential storyteller who breathes never-been-done-before ideas into existence. Her penchant for turning complex thoughts into moving experiences has made robots dance for Ford Motor Cars, illuminated 56 interactive Christmas trees outside the White House with Google, and re-imagined the story of Darwin with the Natural History Museum.
"In stories and script writing, it's all about the subtext, the subconscious, the triggering emotional responses," she explains. "It's about the emotional chemistry that we can ignite and play with when we're telling stories." 
We spend some time discussing the importance of human emotions in selling in the Digital era.
Zoe's work with 2zero3zero is helping clients make shifts in their culture and adapt to a sustainable future. Zoe shares that she is "always gravitating towards areas that mean we can have a positive impact." Her agency also uses social gaming to run Gangland Karma, an interactive game that challenges gang recruitment, influencing young people away from violence and crime.
As a woman in STEM, Zoe understands the importance of recognising the frankly underappreciated talent that women bring to the tech industry. She captures this crucial point with Ada.Ada.Ada—a storytelling initiative inspired by the world's first computer programmer, Ada Lovelace, who was written out of history because she was a woman.
To find out more about Zoe's brilliant initiative, check out
adatheshow.com
and watch the YouTube trailer here: 
https://youtu.be/BjLCQ91vU20