Episode 4: Two Towers for the Sandhurst of Regulation
Episode 4,
Feb 12, 02:52 PM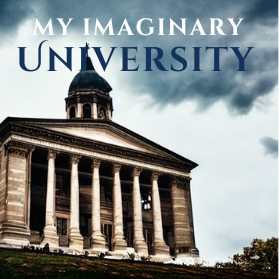 In the latest episode of My Imaginary University I speak to Douglas Blackstock, former Chief Executive of the QAA about his idea for a novel and non-traditional kind of university. His extremely niche institution, provisionally named the European University for Regulation of Organisations, is handily located in Luton, close to some excellent transport links. 
The core idea behind this new university is that it provides courses, at all levels, for both regulators and the regulated and if Harvard are offering programmes in this area then why not. The two different groups study in two separate buildings and segregation is rigorously maintained by means of a linking corridor and a revolving door. Being located close to Luton airport is key for international student recruitment but also for short course provision (in partnership with the Premier Inn).
Douglas is confident of demand, seeing regulation as always having a consistent market, a bit like funeral directors, and is aiming to ensure genuine participation from students, both regulators and regulated, in dealing with every aspect of the university's own operations, from HE regulation, to student codes of discipline.
Finally, Douglas bemoans the lack of a huge donor to support his vision but nevertheless comes up with a strong range of potential university anthems.