Oscar Piastri: remote control racing to F1 rookie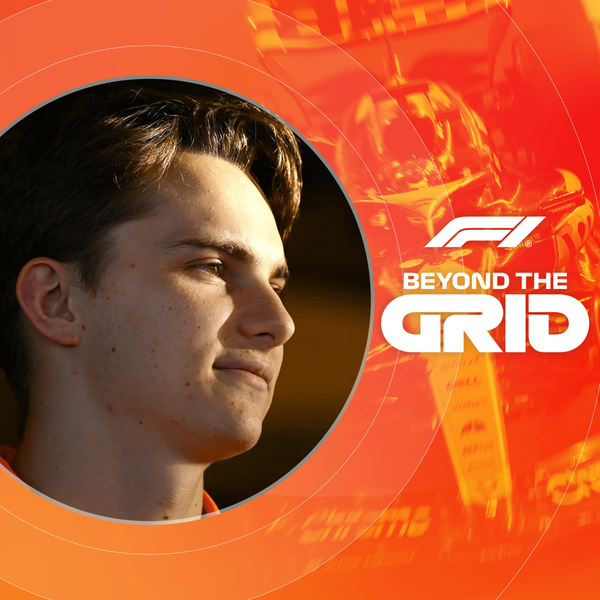 Oscar Piastri came into Formula 1 with plenty of expectation. But it seems he has the potential to match the pressure. In three consecutive years, he became Formula Renault, Formula 3 and Formula 2 champion. After winning the F2 championship, there was no space on the grid for the 2022 F1 season and Piastri had to take a year out from racing. But now his chance has arrived. McLaren have given him the opportunity to prove himself at the top and he's keen to emulate the success of fellow Australians, Mark Webber and Daniel Ricciardo. Piastri tells Tom Clarkson about leaving home at a young age and how his career in motorsport began with remote control racing. Although last season's battle for Piastri's signature between McLaren and Alpine is behind them, there's now more attention on him than most F1 debutants are used to. But alongside Lando Norris, he's confident of bringing back the glory days to McLaren.
Follow, rate and review F1 Beyond the Grid and share this episode using #F1BeyondTheGrid.
This episode is sponsored by: 
Athletic Greens: if you want to take ownership of your health, today is a good time to start. Athletic Greens is giving you a FREE 1-year supply of Vitamin D AND 5 free
travel packs with your first purchase. Go to
athleticgreens.com/f1btg
.
MoneyGram: flex your finances using the only digital wallets with real cash access activated by MoneyGram. Learn more at
moneygram.com/stellarwallets
.
LinkedIn Jobs: find the qualified candidates you want to talk to, faster. Post your job for free at
linkedin.com/GRID
.