GET TALENT! | #27 | Coachability
Episode 27,
Mar 23, 02:39 PM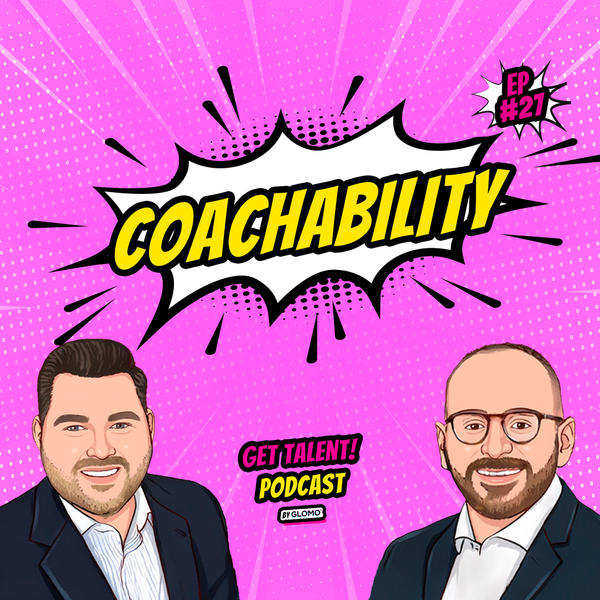 What's the top reason people fail in a new role?
'Coachability' may sound like business jargon, but this trait just might be the most important thing to hire for! According to a Leadership IQ study, company leaders said that 46% of newly hired employees failed within 18 months due to lack of coachability.
Ben and Danny share how critical coachability is to individual and team success. You'll learn a great technique for figuring out if your candidates have this trait, interview green flags, and how to give back to your team as a leader.
00:53  What is coachability?
01:07  Forbes article: coachability definition 
01:52  How bravery is a crucial factor
02:50  Managing openness throughout life
04:02  How do we maintain coachability as we grow?
04:23  Coworkers you respect and trust
05:09  Leadership IQ study: Top reason newly hired employees fail
06:30  Consequences of a non-coachable employee
06:43  Impacting the culture
08:10  Coachability from a leadership perspective
09:13  Negative effects on the team  
10:26  The difference of a coachable team member
10:42  Innovation requires openness
11:25  Coachability invites change
12:10  Lateral team teaching
13:06  Keys to creating a coachable environment
13:48  Taking risks
15:28  Coachability in potential candidates
16:55  How do you hire for coachability?
17:59  Candidate responses to feedback
19:10  Building on feedback
20:14  Taking ownership
21:57  Recognizing mentorship
23:17  Balancing between confidence and ego
23:53  Not passing the buck
24:46  Coaching is different from delegating
25:08  The two way street of coaching
26:33  Coaching at high levels of success
28:57  Ben's closing coaching advice 
30:05  Care about other people first
WORK WITH GLOMO TALENT:
🔎 Seeking the talent to transform your business? Email danny@glomo.com
💼 Ready for a new opportunity? Check out our open positions at
https://glomo.com/talent/
GET RECRUITING NEWS & JOB ALERTS:
Subscribe to our email newsletter:
http://eepurl.com/hrc5-5
FOLLOW US ON SOCIAL:
https://www.linkedin.com/company/glomoagency/
https://www.instagram.com/glomo_consulting/
GLOMO is dedicated to scaling global mobility companies through sales, recruitment, and acquisitions. We love helping businesses and entrepreneurs achieve their destinies! At the same time, we believe that doing good is good for business, and our true purpose.